Keiya's WoWSpace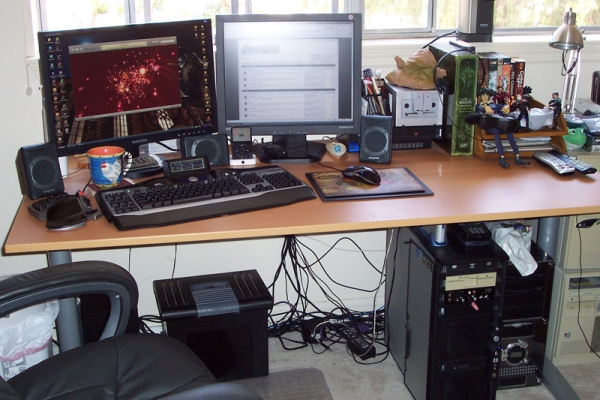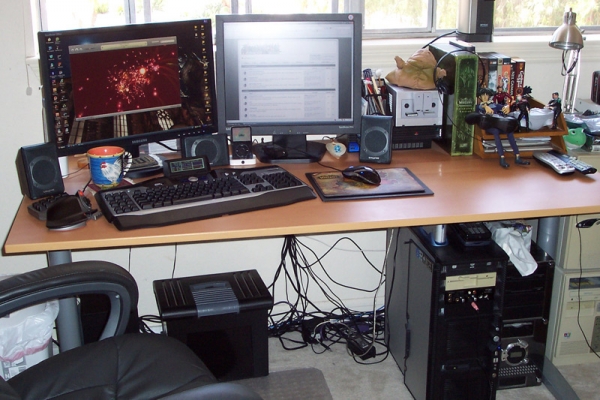 I like reading the "Reader WoWspace of the Week" articles over on WoWInsider. It's interesting seeing where other people play, in addition to giving me purchasing ideas (naughty naughty, I spend enough on "stupid computer crap" and "personal ergonomic comfort.") Figured I would do my own:
Desk: Beech Veneer Ikea Galant table. My old deks was a large awkward computer cart. I like this one because it's plain, sturdy, and spacious. I am considering going back over to Ikea and getting the cable organizer that attaches to the underside of the desk, so that I can run the cables through it and hide them a little more.
Chair: It was on sale at Office Depot for around $99. It's cushy and it's leather.
Monitors: 19″ Samsung SyncMaster 914v and 22″ widescreen Samsung SyncMaster 225BW. Both were Black Friday sales, for 2005 and 2006.
Speakers: Cheap Creative 5.1 speakers from Best Buy. One day, I'll replace them with a nicer set of PC surround sound speakers, but these are sufficient for the time being.
Nostromo n52 Speedpad: I love this thing, it's so handy. I have just about every single ability and macro that I could ever want to use bound to the gamepad. It does though, take quite a bit of time to get used to. I don't think I can play without it now.
Logitech G15 Keyboard: Newest toy, posted an article about it lately. My other keyboard drowned in a tragic coffee incident.
Razer Diamondback Mouse: It's a low profile mouse with on-the-fly sensitivity adjustment options. Pretty, glows blue, very responsive.
Burning Crusade Collector's Edition Mousepad on top of an IcMat (bought it from CompUSA and hated it…the noisy scraping noise eventually drove me nuts). The MC mousepad is a bit small though…
Computer: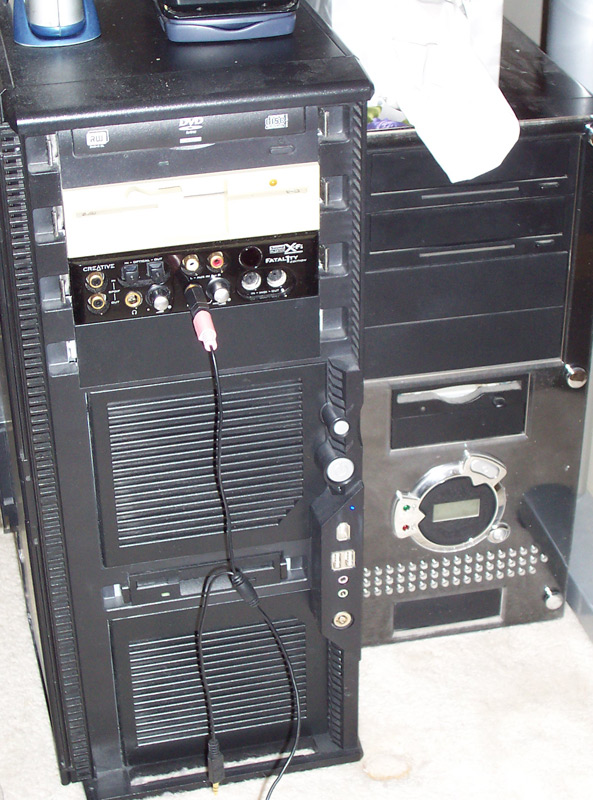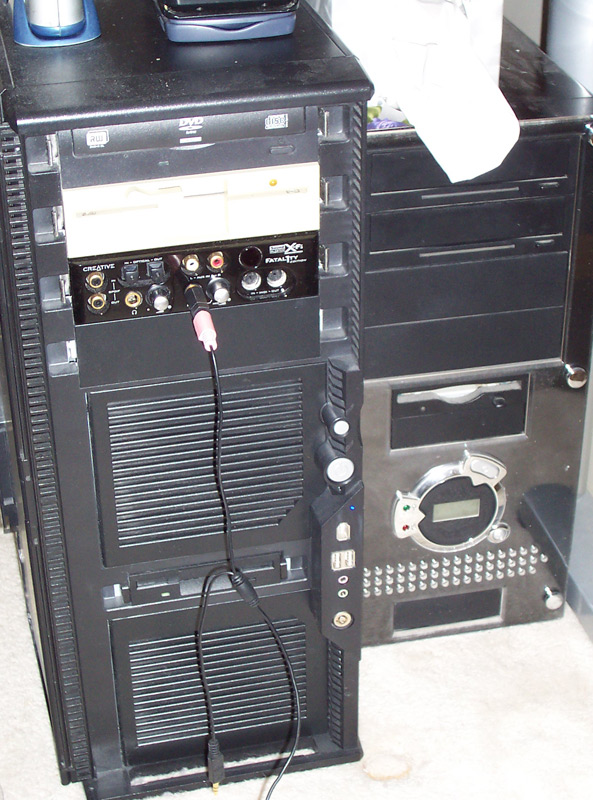 Built it during early August right when the socket 939 chips and boards dropped significantly in price. Had originally purchased a Radeon x1800XT, but it was a bad. Returned it to Newegg and bought a cheaper NVidia card in its stead. Figured that I would eventually replace it with a DX10 card.
Case: Antec p180, It's the mini-fridge case, but it's large, quiet (sides are insulated), and designed well. It's also made of steel…and kind of heavy lol.
CPU: AMD 64 X2 4600+, CPU Cooler: ARCTIC COOLING Freezer 64 Pro
Motherbard: Abit KN8 SLI
RAM: 2GB Corsair ValueSelect 184-Pin DDR SDRAM DDR 400
Graphics Card: BFG Geforce 7600 GT OC with a Zalman VF-900
PSU: OCZ Powerstream 520w.
Harddrives: HDD 1: 400g SATA Seagate Barracuda, HDD 2: 250g SATA Western Digital Caviar (video and bittorrent drive), HDD 3: 250g IDE Maxtor (junk drive)
That's a 5.25″ in floppy drive installed, in it's beautiful faded beige glory.
Below it is the Creative X-Fi front audio panel with my Ventrillo mic plugged in (I know I know, will chat more with it one day I swear). Probably wasn't worth an extra $100 just for the remote and panel, but I <3 buttons.
Case = dusty. I haven't cleaned out the front intake filters in several months. Luckily though, the inside of my case stays relatively clean. The filters seem to catch most of the dust.
Top of the case: Old ass TI-85 graphing calculator sitting on top of a scientific calculator , and an external HDD enclosure.
To the right is my old computer, which actually isn't functional at the moment because I don't know where my C drive is. When turned on, the entire case hums and emits a horrid blue glow. It's irritating.
Other Stuff: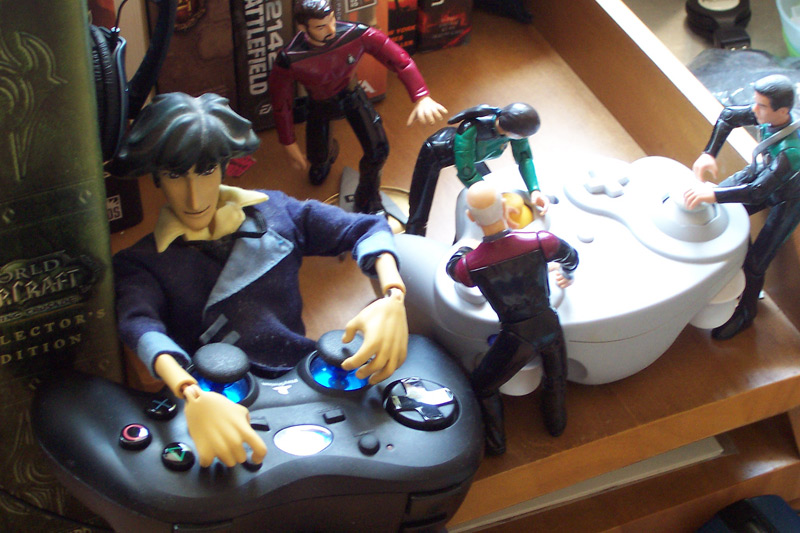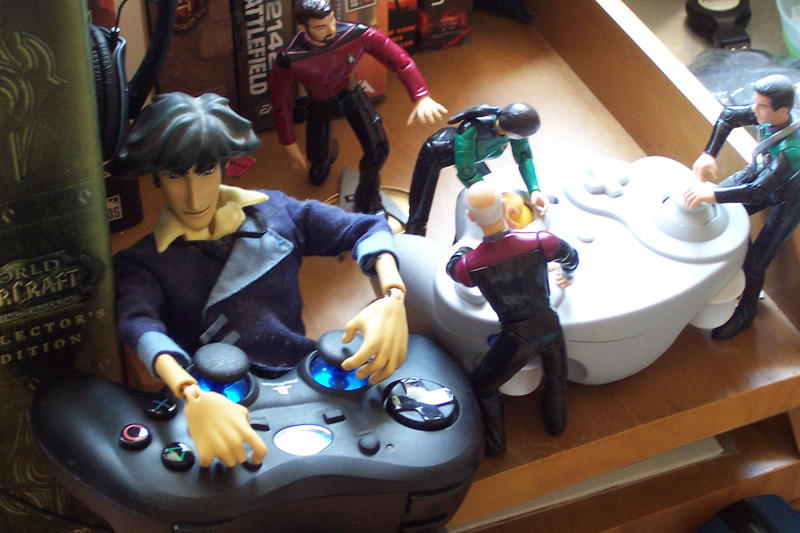 I just cleaned my desk, otherwise there would be food and an assortment of paper work everywhere.
My rooster mug <3.
30g iPod video. It's how I keep sane during the workday.
PS2 and Gamecube with Jabba the Hutt perched on top.
BC collector's edition.
Miscellaneous games, DVDs, and literature. Typically the games, books, and DVDs that I am currently playing, reading, and watching.
X-Fi and TV remote. I usually store these on the floor on the other side of the room 😛
$20 tensor lamp from Costco with a loose switch. Been broken for 2-years, keep meaning to fix it.
Junk under the lamp: Small pile of old harddrives and a plush frog pencil holder. Both are sitting on 2 old computers, stacked on top of each other to form a table.
Ugly black file box under the table is what I use as a foot rest.
Right above my mouse is a white dish like thing with a clear blue d20 in it. It's actually an incense holder that I use as a spoon rest. When the weather is not hot, I love sipping hot cocoa in the evenings.
The d20 makes important decisions for me.