Game Review: Portal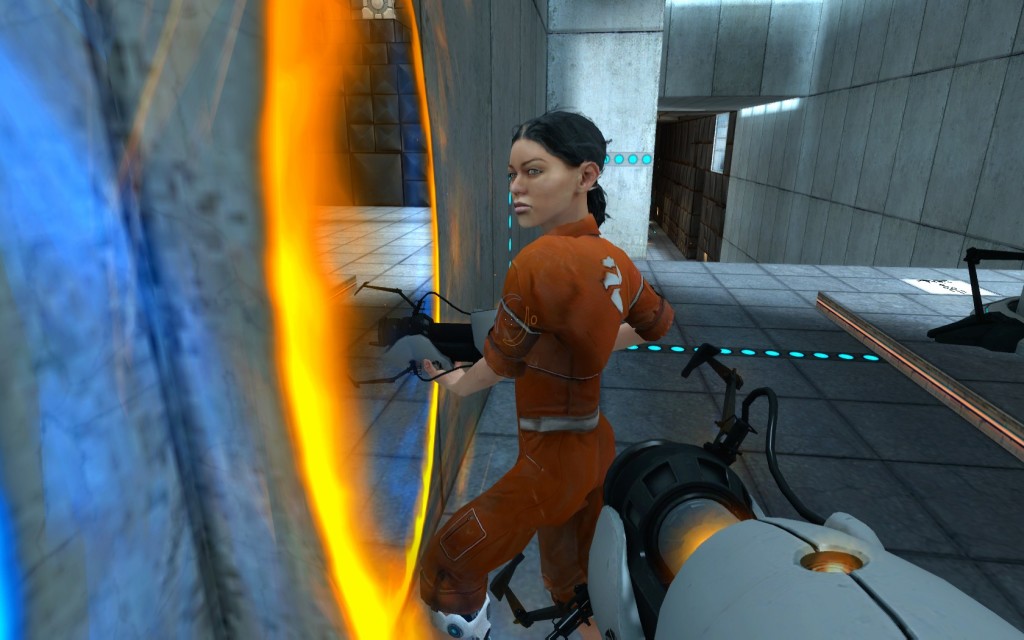 I don't think I've talked about Portal enough or how much I love it. Portal is a first person puzzle game/comedy based off of Narbacular Drop, a game created by students at the DigiPen Institute who were later hired by Valve to work on Portal. It's not a traditional first person game; So if you dislike shooters, I still highly recommend picking it up for legitimate and refreshing fun.
I really expected it to be little more than a tech demo of the Portal gun, for the sake of introducing new gameplay and letting the modding community have at it. In fact, since the Portal mechanics and the puzzles are so damn fun and intuitive, I would have been happy with just a tech demo. Instead, I was very pleasantly surprised to find a self-contained immersive story with a compelling narrative.

Basically: You wake up in a futuristic sleeping chamber. Guided by a snarky computer voice, you are run through a series of "tests" with only a portal gun and the promise of moist cake. The gun shoots two portals that will attach to (almost) any surface and act as a gateway between each other.
The dialogue, written by the guys who did Old Man Murray (funny gaming website of early 00's fame), is hilarious and just bizarre. It's a pretty simple story that you just have to play because I can't describe it very well without giving away the fun surprises. Oh, it also has the best ending song in the history of ending songs. Just, so satisfying.
If you don't want to purchase all of the Orange Box (why not though? 5 games for $50 is a steal), Portal is available via Steam as a standalone download for $20. I guess my only con is that the game is fairly short at about 3 hours (give or take a half-hour) for a play-through. After completion, several additional modes unlock (not to mention the possibility of fun user created mods). WELL worth prying your fingers away from WoW for one of the best games of the year.
PS: For those who have beaten it, rumor is that the Valve online store will have Weighted Companion Cube toys (plushies??) in stock by this Christmas!