G15 Modifications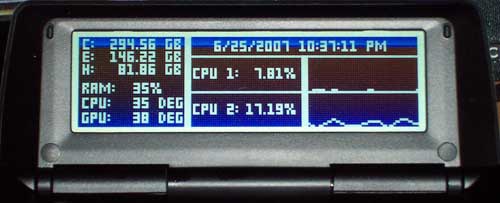 With a program called LCDStudio, you can customize your G15 to display nearly anything that you would ever want to see (Winamp information, system specs, CPU temperature, etc). The downside being, that you will need to keep the LCDStudio running in the background in order for the custom displays to function. In order to show your CPU/GPU temperatures and fan speeds, you will need to install SpeedFan (and keep it running in the background as well).
SpeedFan is more or less straight forward to setup. LCDStudio requires Microsoft.NET 2.0 on your machine before you can install it. After you download and install LCDStudio, you will need a license in order to run it. It's free, click the link and fill out the online form when the popup shows.
G15forums is a great resource for downloading and seeking aid on starting templates. They aren't too hard to modify either.
Good Winamp mod: Ray's Mod. Visualizer, makes the LED's flash, etc. In order to make the entire keyboard flicker: Go into the config screen, hold down both CTRL keys, scroll down to the bottom, enable both options.
WoW mod: G15 Bar. It gives you 18 extra buttons to move stuff to.
….changed the site theme. Hoping that it's readable. I'll make a custom logo, banner, or something one day.