HTPC Build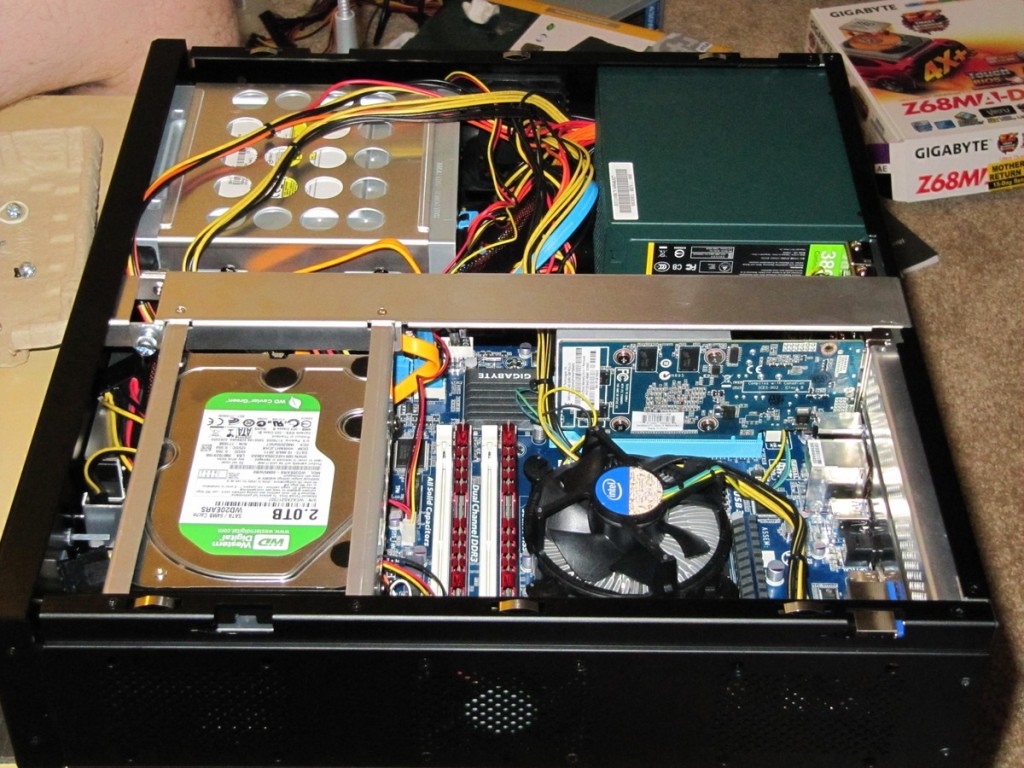 The build listed in the chart below is what we ended up running with for the HTPC that we built at the end of December. At long last, the dream has been realized. The ASRock motherboard that we had originally ordered off of Newegg arrived DOA, so it was RMA'd back and replaced with a Gigabyte mATX board acquired during an emergency run to Fry's electronics.
The case we picked is nice looking, well built, and quiet, even with the dinky 70mm fans. Size wise, it's about the size of a large DVR or VCR and fits on our console/TV crap cart perfectly. There really isn't a whole lot of clearance between the desk drawer and the floor so height was a concern.
I have tried most of the popular media portion solutions and honestly, all of them were either a pain in the ass to setup or didn't really suit our needs. XBMC came close; I actually had spent a considerable amount of time configuring to play Blu-Ray Disks and ISOs (which it does not do "out of the box"), launch external applications and play Netflix.
However, loading everything using their respective normal programs ala normal computer usage works far better in our situation even though it is difficult to read small text on the TV from the couch. None of the media portals supported subtitles all that well, particularly if a video has multiple video or audio tracks. I don't think anything other than the standard video players will allow you to easily swap subs and audio tracks (correct me if I am wrong).
We are using an Apple Magic Trackpad and one of those small Apple bluetooth keyboard to control the system. Both devices are nice looking and do not take up a lot of space, which is nice since both devices permanently live on the coffee table (certain things never get put away). Getting the trackpad to work in Windows 7 was interesting, I'll make a separate post about that just in case anyone was having trouble getting it to work. I also have a Synergy server running off of my computer, which effectively allows me to use the TV as a third screen.
I was surprised but, that small-ass video card lets us play WoW at a relatively high video setting (my interface however, is not designed to be viewed or played from the couch, so I will need to work something out).. Most of those arcadeish steam games look and work fantastically with an Xbox controller. I need to find my ROM stash; I have about 10 to 15 gigs worth burried on an older HDD.