Diablo 3 Post Level 70 Notes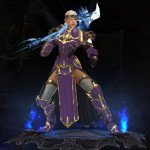 My monk is currently at level 70 paragon 53. We have been clearing through Torment 1 Adventure Mode content without any real difficulty, My damage is still fairly low (pushing not quite 300k), but moderately useful items have at least been dropping for me lately. Recent spoils: Xephirian Amulet, Fists of Thunder, and Vigilance.
This build is what I have been running with lately. I swapped out Deadly Reach and Sweeping Wind for Way of the Hundred Fists: FoF and Mystic Ally. If I recall correctly, WoHF:FoF is the highest DPS spirit spender at the moment, but it does not generate as much spirit as DR and does not synergize with elemental bonuses. Once the RNGesus chooses to favor me in my endeavor to acquire +lightning damage items, I shall swap my build over yet again. Fire Ally seems to be okay? I am unsure how it compares damage wise with SW:CS with my current gear, but I kind of got tired of repeatedly having to recast Sweeping Wind every time I lost momentum or had to stop to look at gear drops, go AFK, and the like.
LTK:SS and DS are more or less staples for any of my builds.