[Gardening] My Succulent Collection
I have noticed recently, that as I grow older (more specifically, as my free time shrinks), the less I am interested in gaming in front of a computer. I guess that isn't really a bad thing, but it is probably the reason why I post here about once a week at most.
Now that the weather is getting warmer, gardening can ensue. We have been in the house for a little over a year and the backyard is still kind of a mess, aside from my small corner of potted plants. Truth be told, one of the reasons for my love of succulents is the fact that they require very little maintenance. The primary reason of course being that they look cool/weird. Here are a couple of plants from my succulent collection that I am particularly fond of:
I am pretty sure that these succulents are in the echeveria genus, but I am not 100% sure what species. They are from my wedding bouquet and grow/flower like crazy with very little maintenance other than placing them in a spot that receives sun and splashing them with water once in a while during peak hit in summer.
I have noticed that one of the flower stalks is infested with little black bugs. The bugs likely seem to be isolated to just one stem and have not returned since pruning them off.
Before Winter (October) and after Winter (March). When I had purchased these plants at Lowe's, I didn't have high hopes for them surviving through the Winter because the looked a little bit scarred or possibly split from overwatering
The leaf on the top right was unfortunately munched on by a rabbit and died as expected. The leaf on the top left looked pretty bad, but has a new leaf emerging. I am very pleased to see a double spawn out of the big leaf on the bottom.
It rained a lot in 2015 (for Southern California which is to say, not much by everyone else's standard) and I wasn't very diligent about moving the water sensitive plants to a covered area, so we'll see how they do. The soil does dry fairly rapidly when in full sun.
Fenestraria Aurantiaca (Baby Toes)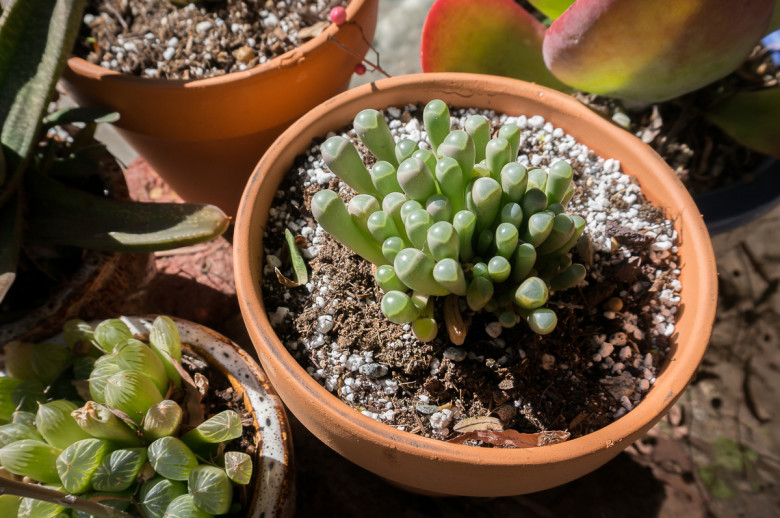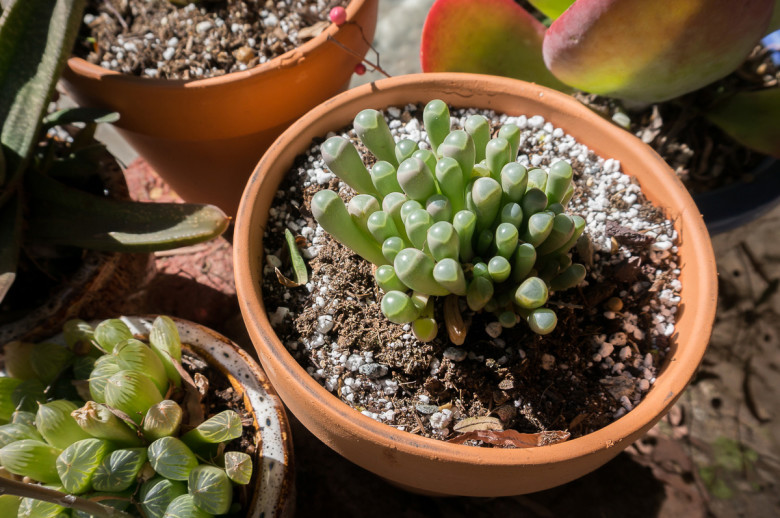 Have been looking for these on and off for a while and happened to find them the other week during a plant sale when we were out and about. I had a decent sized pot of these growing up, pretty sure that they died due to over-watering.